KTM TOAST 65 AND 85CC FIM JUNIOR WORLD CHAMPIONSHIPS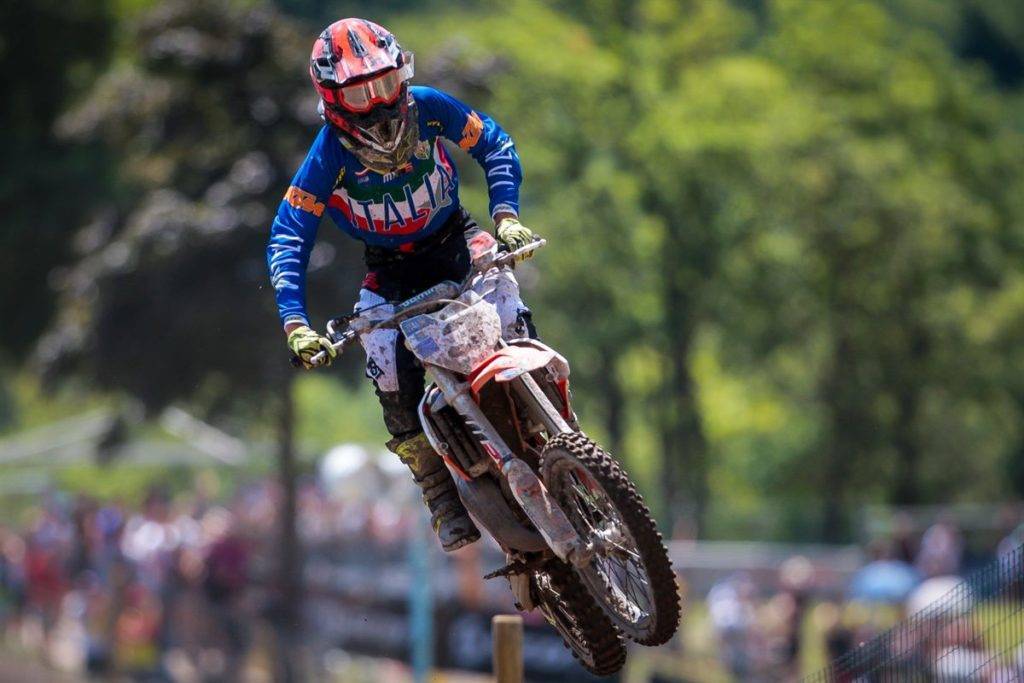 While MXGP was taking place in Asia the best youngsters in dirt bike racing were tackling the annual FIM Junior World Championships at the Pietramurata circuit in Arco di Trento in Italy. From the three categories – 65cc, 85cc and 125cc – KTM machinery helped riders to two of the titles thanks to the efforts of Vitezslav Marek and Valerio Lata.
Bright summer conditions greeted the 2019 edition of the FIM Junior World Championship around the tight, hard-pack and scenic circuit of Pietramurata. The Italian course has been the site of the Grand Prix of Trentino since 2013 so the compact layout and narrow trajectory was not a mystery to the majority of the hundreds of junior hopefuls (from 32 different nationalities) that descended on the Arco venue.
After two full days of qualification and activity KTM were happy to assist two riders in their quest for success. In the 65cc category Czech teenager Vitezslav Marek (who had classified 8th in 2018) used his KTM 65 SX to take a 2-1 scorecard in the motos and triumph ahead of three other KTM racers. Italian Valerio Lata used some home knowledge and support to go 1-1 on his KTM 85 SX and win the 85cc crown by a comfortable distance. The Italian was one of ten KTM riders in the top twelve.
Valerio Lata:"I've always liked this track and I knew I could do well. I had very good starts and I focused in not making mistakes and having fun on the bike. I'm very happy with the final result and I will celebrate it with my parents at home. I had a lot of fun this weekend and now I must remain focused as my next goal is to become 85cc European champion in Loket in a couple of weeks time."
The 125cc division was claimed by another Italian, Mattia Guadagnini, but the Husqvarna star was chased by no less than eight KTM 125 SXs with France's Tom Guyon and Switzerland's Mike Gwerder taking second and third places on the podium respectively.
The FIM European Championships for 65 and 85s will draw many of the same juniors to the Grand Prix of Czech Republic at Loket in two weeks time.
2019 FIM Junior World Championship 125cc Final standings
1. Mattia Guadagnini (ITA), Husqvarna
2. Tom Guyon (FRA), KTM
3. Mike Gwerder (SUI), KTM
4. Simon Lagenfelder (GER), KTM
5. Joel Rizzi (GBR), KTM
85cc Final Standings
1. Valerio Lata (ITA), KTM
2. Evards Bidzans (LAT), KTM
3. Matteo Luigi Russi (ITA), KTM
4. Quentin Prugnieres (FRA), KTM
5. Karlis Alberts Reisulis (LAT), KTM
65cc Final Standings
1. Vitezslav Marek (CZE), KTM
2. Ky Woods (AUS), KTM
3. Lotte Van Drunen (NED), KTM
4. Kayden Minear (AUS), KTM
5. Edoardo Martinelli (ITA), Husqvarna