SDM Corse Yamaha Official EMX250 Team – 2019 Line-Up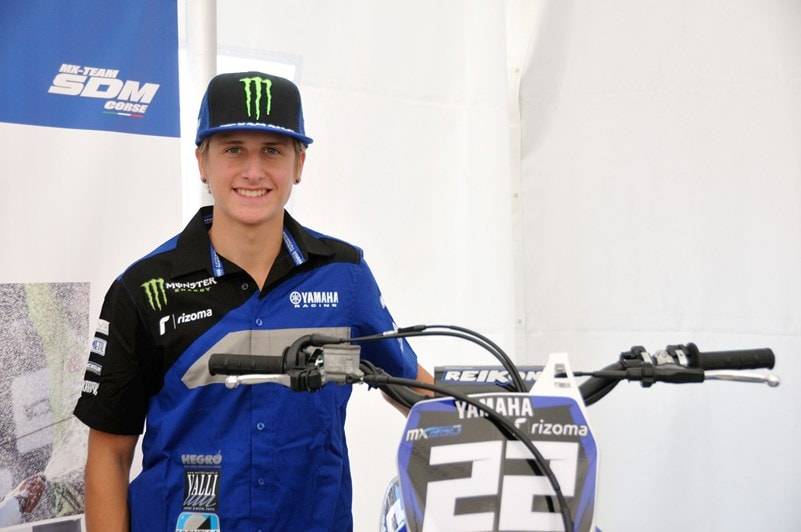 The SDM Corse Yamaha Official EMX250 Team – formerly titled 'ASTES4-TESAR Yamaha Official EMX250' – will enter the 2019 EMX250 Championship with a fresh and exciting new line-up. The team is thrilled to announce the signing of Gianluca Facchetti, Ruben Fernandez and Rick Elzinga, that will see the trio contest the 2019 European Championship onboard GYTR kitted YZ250F machinery.
Spearheading their effort will be the 2017 FIM Junior Motocross 125cc World Champion Gianluca Facchetti. At the tender age of 18-years-old, Facchetti has already experienced a multitude of success. The youngster finished inside the top-three in the 2017 EMX125 Championship with five consecutive podium finishes before making his EMX250 Championship debut this season, in 2018. After proving to be a solid top-five contender in the 2018 EMX250 Championship, the talented Italian led Team Italy to victory at the Motocross of European Nations in Poland with a dominating 1-1 performance.
After a challenging season in MX2, Fernandez has moved back to the EMX250 Championship to further refine his skills and experience on the Grand Prix circuits before returning to the pro league. As the 2017 EMX250 Championship bronze medalist, the 19-year-old already has a wealth of experience inside the EMX250 class and will enter the 2019 EMX250 Championship with high hopes.
Despite an unlucky year in 2018 where he missed most of the EMX125 season due to injury, Elzinga was nothing short of impressive at the three rounds he did attend. Upon his return to racing, the 17-year-old sensation challenged for race wins in every race he lined up for and managed to finish on the podium on two of three occasions. For the 2019 season, he has swapped his GYTR kitted YZ125 for GYTR kitted YZ250F where he will be a rookie to watch inside the hotly contested EMX250 Championship.
All three riders will be based in Italy where they will ride and train on a regular basis with the 2008 MX1 World Champion David Philippaerts.

Daniele Marchese – SDM Corse Yamaha Official EMX250 Team Manager
"We are really looking forward to next year and taking on a new challenge. We will enter the 2019 EMX250 Championship with three new riders. We are really excited to have Gianluca Facchetti onboard. He is the 2017 Junior World Champion and is easily one of the most talented riders' that is racing the European Championship right now. Rick Elzinga is a young guy that has an enormous amount of potential to grow and we feel that with the guidance of our team, that within the next two years he could take the title. The third of our riders, Ruben Fernandez is rider that has a lot of experience, not only in the EMX250 Championship but also inside the World Championship. He had some good races insideMX2 this year, and we believe that he will be a tough challenger in the EMX250 Championship next year."
Erik Eggens – Yamaha Motor Europe MX Racing Manager
"Yamaha has had the pleasure of working with the SDM Corse team for the last two-years and it is nice to extend our relationship with this team as we prepare for an exciting 2019 European Motocross Championship season.  The SDM Corse Yamaha Official EMX250 Team has a significant place inside the Yamaha Racing pyramid as it is 100% Yamaha's philosophy to develop the younger generation of motocross riders by giving them the tools, team and support required to achieve their goals. The EMX250 class prepares younger YZ250F riders for their professional careers, and helps to make the step-up into MX2 Grand Prix easier. SDM Corse's line-up for 2019 has an enormous amount of potential, and it's really nice to see a group of talented young riders that are excited to live in Italy and train with each other and of course the 2008 World Champion David Philippaerts."
Text/Fotos: Yamaha Racing