ALTA Motors stellt Produktionsbetrieb ein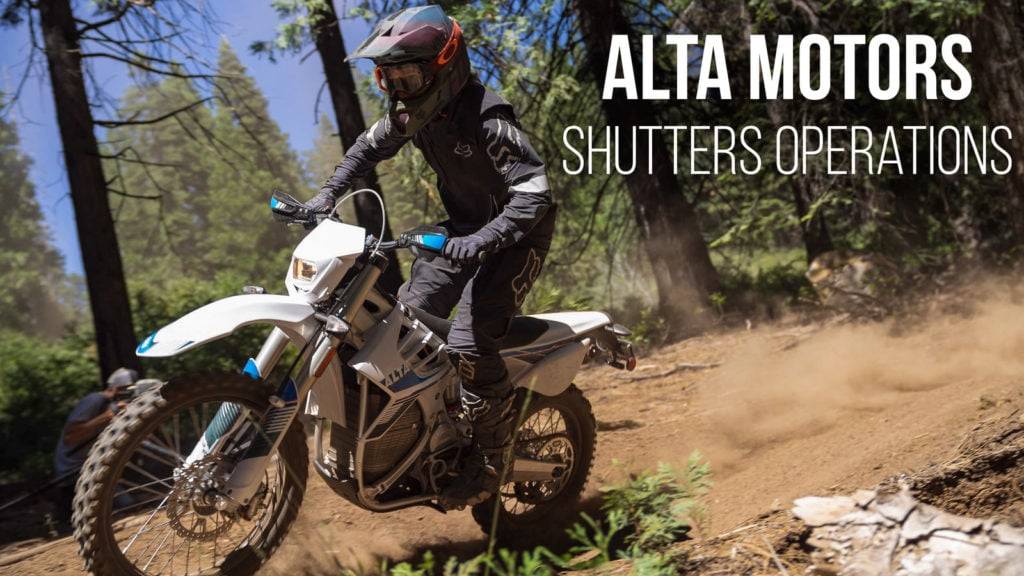 Hier der Originaltext vom Asphalt & Rubber Magazin:
Bad news from San Francisco today, as we learn that Alta Motors has ceased business operations, effective immediately, sending the company's staff home as the electric motorcycle manufacturer looks for future funding.
Talking to an anonymous source, Asphalt & Rubber has been told that Alta Motors is in the midst of a strategic wind down, as it looks for an outside acquisition or investment.
Today's news comes after a story we published where the business relationship between Harley-Davidson and Alta Motors began to fall apart, which included further investment from the Bar & Shield brand into Alta Motors, which was dog-eared for the company's next electric motorcycle platform..
Not soon after that report, Harley-Davidson announced that it would be opening its own R&D facility in the San Francisco Bay Area, with the goal of developing drivetrain technology for electric motorcycles and bicycles.
From that point forward, Alta Motors has been in talks with other investors, including at least one deal that would have seen Alta Motors acquired outright.
Asphalt & Rubber understands that Alta Motors turned down one offer for acquisition, and was in the process of accepting a second proposal, which also fell through at the "11th hour" for the San Francisco startup.
Now with Alta's business operations shuttered, the company has effectively ended is burn-rate of capital, which allows Alta Motors time to field serious offers of investment and acquisition.
This plan could very well payoff, as Alta Motors was in the midst of a stellar year, showing 50% growth quarter-to-quarter in 2018, with roughly 1,000 units sold to customers this year so far, and a backlog of 300 units or so still to work through.
With a dealership network of roughly 70 dealers, Alta has made good progress on flushing out its electric dirt bike business, and seemed to be progressing forward, despite the obstacles put in front of it by the establish petrol patriarchy.
More importantly, Alta's current lineup of electric dirt bikes have been impressing motorcycle journalistsand motorcycle enthusiasts alike, especially after Alta's price reduction and "R" spec of machines debuted.
Undoubtedly though, reducing the pricing on the Redshift line of electric motorcycles couldn't have been sustainable or even profitable for Alta Motors, but it did show that there is a market for these kind of machines, especially when cost/performance parity with gasoline motorcycles is achieved.
From our perspective, it certainly made the established OEMs take notice of Alta, and what was happening in the electric two-wheeled space.
Going forward, it is not clear what is in store for Alta Motors. The company could find a new home in an investor's portfolio or with a strategic buyer – possibly even another powersports industry player.
It is also just as possible that Alta Motors could go the way of other US motorcycle brands before it, another footnote in the story of American motorcycle innovation. Time will tell.